Carrie O'Connor, Attorney
---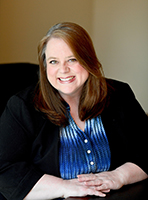 Office (859) 963-2241
Direct (859) 963-1802
Fax (859) 280-2246
CARRIE O'CONNOR is a graduate of Lafayette High School in Lexington, Kentucky.  She attended the University of Miami in Coral Gables, Florida, where she earned a Bachelor of Arts Degree in Music.  After spending some time taking additional coursework at the University of Kentucky, Carrie returned to Coral Gables and enrolled at the University of Miami School of Law.  As part of her legal studies, she participated in the University of San Diego School of Law's Institute on International and Comparative Law in Dublin, Ireland.  She also completed an internship in the Mental Health and Social Services Division of the Miami-Dade County Public Defender's Office.
Carrie received her Juris Doctorate in December 1998, and was admitted to the Illinois Bar in October, 1999.  Shortly thereafter, she relocated to the Los Angeles, California area.  In 2002, she worked in the Office of Clients' Rights Advocacy in Los Angeles, advocating for the rights of individuals with developmental disabilities.  When her time at OCRA came to a close, she stepped out of the professional world to start a family and was a stay-at-home mother to her two children.  Carrie and her children moved home to Lexington in 2012.
In February 2016, Carrie returned to the legal profession when she joined Britton Johnson PLLC as a Paralegal.  She was admitted to practice in Kentucky in October 2018 and has transitioned from Paralegal to Associate Attorney.  She is a member of the Kentucky Bar Association, the Fayette County Bar Association, and the American Bar Association.  In addition to her practice of law, she is involved in the community and actively supports her children's activities, including playing the piano at her Parish Church and serving on the chaperone crew for the marching band.